-Who is he?
    -He's a g h o s t. You'll never find him.

Source: clintzbarton
New Avengers: Age of Ultron pictures from Entertainment Weekly.
Source: anthonymackies
 Drawings by John Pusateri

New Zealand based artist John Pusateri creates near photo-realistic drawings of beautifully colored owls using pencils, charcoal, and pastels. Pusateri currently teaches in the Department of Architecture at Unitec New Zealand and currently has a number of works available through Seed Gallery.
Source: f-l-e-u-r-d-e-l-y-s
Yet another installment of the Captioned Adventures of George Washington.
Loading more posts
Darcie | Virginia Beach, VA, USA | Registered Nurse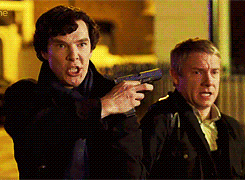 Alphabetical list of loves |
Acrylics. Alice in Chains. August 22. Autographs. Bisexuality. Bones. Captain Jack Sparrow. Cats. Classic Rock. Cocktails. Cockles. CPine. Denise Richards. Destiel. Draco Malfoy. ETOH. Grunge. House. HP. ITM. Jensen Ackles. Jerry Cantrell. Kirk. Kirk/Spock. Kittie. Layne Staley. Lipgloss. Lost Girl. Loki. Merlin. Metal. M/M fanfiction. Movie scores. Mythbusters. Mountain Dew. Musey. NASCAR. NIN. Nursing. Olivia Thirlby. Owls. Pinto. POTC. Random Facts. Red Velvet Cake. RDJude. Rob Zombie. RSL. Savage Garden. Science. Shatnoy. Sherlock. Sophie Marceau. Spock. Star Trek. Supernatural. Tattoos. Thor. Thunderfrost. Tom Hiddleston. Vampirism. Wincest. Workaholics. ZQ. ZZ Top.
Speak Your Mind